RECRUITING PROCESS
Recruitment helps in dividing applications into categories of underqualified and overqualified. This helps streamline the process, making it easier to shortlist people who would be perfect for the job and would help the company grow. 
Recruitment is a key part of human resource(HR) management and involves attracting and seeing individuals to file for a role.
TYPES OF RECRUITMENT PROCESS:-
1. PRE-SCREENING:-A Pre-Screening interview, or pre-employment screening, is a series of questions that let you learn some basic qualifications information about candidates, before conducting a more extensive interview.  A pre-screening interview can be done over the phone\video chat or via an online survey.  
How to answer these types of questions in your Pre-screening :
What are your strongest skills?
How did you acquire your skills or strength?
What are your strengths and weaknesses?
What are your future goals?
What experiences make you stressed or frustrated at work?
2. RESUME SUBMISSION:- A resume is a formal document that a job applicant creates to itemise their qualification for a position.
Steps you have to follow while submitting your resume:
Review any instructions carefully
Save your resume in the preferred form
Include an inappropriate subject line
Determine if a cover letter is necessary
End your email with a proper signature
Proofread your email
3. INTERVIEW:- It allows managers and company stakeholders to gauge if candidates are a good fit for their company. An interview process is a multi-step practice that companies use to screen candidates for the larger pool.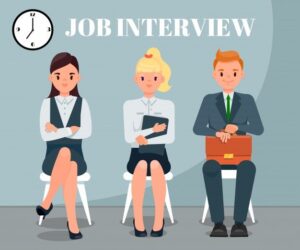 HOW TO IMPROVE YOUR PERFORMANCE IN AN INTERVIEW
Here are some tips to improve your performance in an interview:
Prepare an introduction
Research the company
Practice your answers
Arrive early
Dress appropriately
Bring all necessary documents
Ask questions at the end of an interview.
4. OFFERS\ONBOARDING:- If a candidate makes it to an offer stage, it means that they have vetted, interviewed and passed all the relevant organisational checks. Now is the time to close the deal effectively, you should be well prepared.
QUESTIONS MIGHT BE PUT UP IN THE OFFERS\ONBOARDING PROCESS:
What are your company goals?
What does your ideal project timeline look like?
Who are your ideal customers?
How would you describe your products or services?
What are your core values?
What challenges do you currently face with your website?
5. CAREER CONSULTATION
Importance of the Recruitment process:-
Helps companies hire talented individuals.
Allows companies to hire individuals who value the same principles.
Connects companies with professionals for future job openings.
Ensures that companies hire individuals who can help grow their business.
Helps to Save Training Time and Money with Proper Selection.
Helps to show the path for an organization to success and achievement.
Helps in Ensuring a Positive Brand Image.
Sources/Methods of Recruitment:-
Internal Source
External Source